PRODUCT DESIGN // UX DESIGN // BRANDING
IMPACT HIGHLIGHTS
Role Co-Founder
Timeline 2015 - Today
Location New York
Brain Stamp
Creating a tool for curious high school students to collaborate online
After taking AP Psychology in my sophomore year of high school, I immediately fell in love with how the human brain tries to understand itself. With my contagious passion for science, my friend Abby and I tried to create a psychology club for other like-minded students. We roamed the cafeteria and hallways, receiving over 100 signatures for a petition to start the club; however, when we finally sat down with the assistant principal, we were told that insufficient funds had to prevent the club from passing.
But I couldn't let this stop us. Even though our school did not have the resources to support the club at the time, my mind kept on going back to the same question: What are existing resources for people who want to study psychology?
THE OUTCOME
Since launching, we were featured on a national psychology blog, gained over 600 views, and got recognized by the American Psychological Association's Education Directorate. To this day, I get several emails from educators around the world asking if they can share our material in presentations. Be it networking with students from high schools across the country or pursuing science outreach whenever possible, Brain Stamp is a project I had the honor of pursuing with my friend.
THE PROCESS
INSPIRATION 💭
After hours of researching, I noticed that there was no place for students to collaborate and discuss psychological issues online. There were various accessible publications, such as Psychology Today and professional research journals.
However, there were no alternatives for enthusiastic high school students and/or researchers—such as myself—to share their ideas and findings with peers.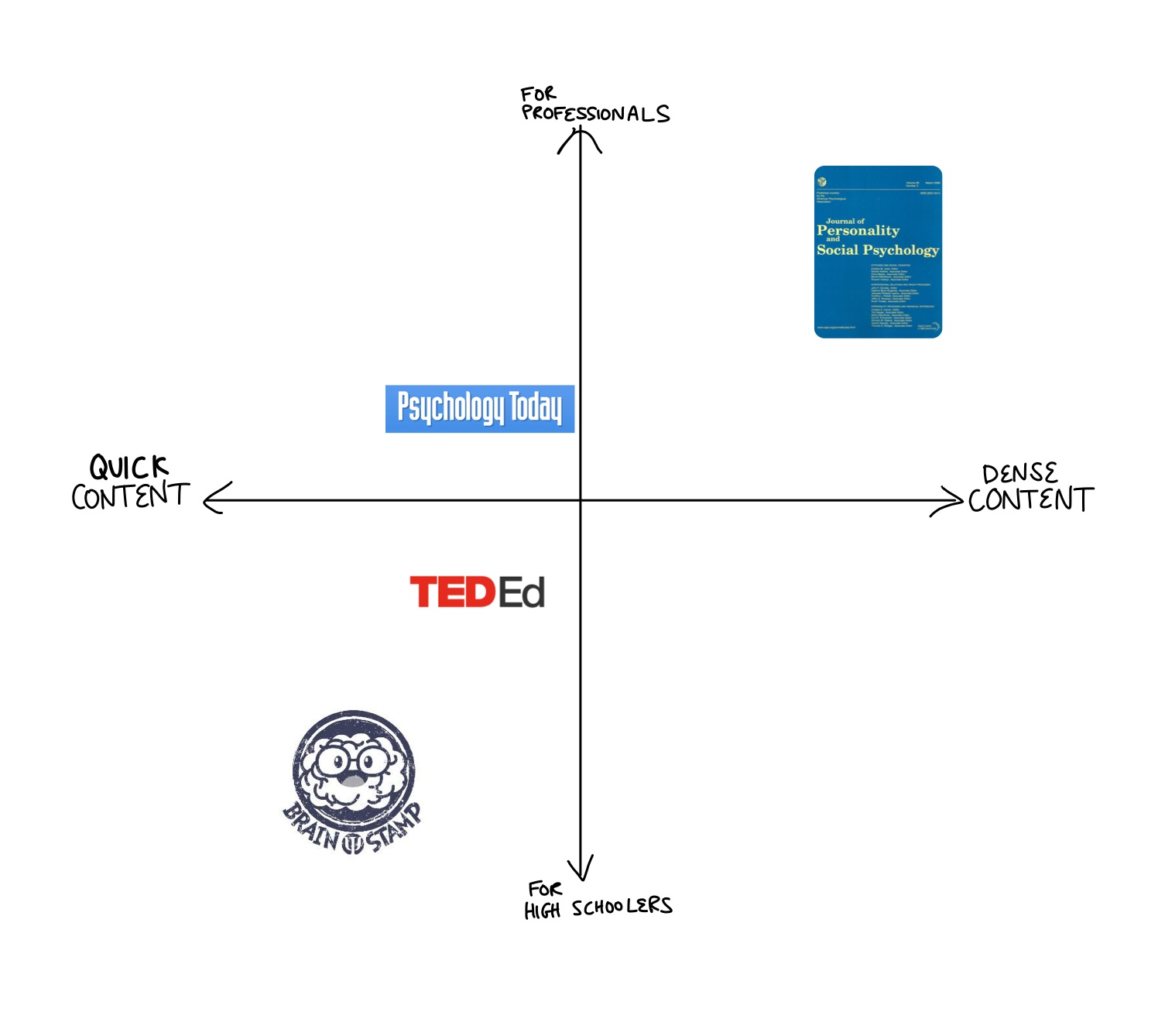 Product Positioning Matrix
While other similar options offer educational content that is (mostly) jargon-free, Brain Stamp is the only publication that offers collaboration among students.
IDEATION 💡
Upon discovering this problem, Abby and I co-founded a psychology magazine called Brain Stamp (BrainStamp.org). By building Brain Stamp, we hoped to fill the following gaps in the market:
Nowhere for inquisitive, self-motivated high schoolers to go

Lack of peer-to-peer communication and sharing of ideas
By "quick content," we refer to information that is digestible, enjoyable, and free of language that is difficult to understand for young readers who may not be fully in the know about the field. By focusing on critical psychological topics, from Freud's defense mechanisms to anxiety disorders, we crafted a platform on which we could independently publish articles from contributing writers.
IMPLEMENTATION ☑️
To build the website itself, I used Wix for its vast customizability and intuitive blogging system. I intentionally designed the home page to be highly visual and colorful. Not only does this aesthetically differentiates us from other publications, but it is also in line with our spirited, cheerful brand personality.
In the final product, a seemingly endless stream of articles is featured as a single flow, resembling a comic-book strip. I wanted to ensure that there was an intimate connection between written and visual content so that we could capture readers of different learning styles.
Recruiting contributing writers was difficult. Now that Abby and I are in college, we don't have the same amount of time to dedicate ourselves to Brain Stamp—certainly not as much as we'd like to. However, if I were to actively try to expand the publication, I'd like to explore social media and search engine optimization (SEO) strategies.
Additionally, it's important to remember that user experiences can come in all shapes and sizes. What this means is that UX research is not specific to strictly building more intuitive mobile apps or website interfaces. I think that paying attention to basic human needs and desires can also be useful for designing better educational tools. And in the case of Brain Stamp, empathy enabled us to put the user at the center of this powerful work of psychological science outreach.
Special thanks to ISOAPPLE and to Dr. Allyson Weseley.